Phalanx is an Amazon Bow devotion skill which forms a wall of archers that attack enemies.
In-game Description of Skill
Phalanx
Projectile - Summon a legion of deadly archers to attack enemies
Requires a bow or crossbow

85% Weapon Damage
Cooldown: x seconds

Wall width: xx yards
Mana Cost: xx

Synergies
Cooldown Reduced by 0.4 Seconds per Level
Skill Stats
THIS TABLE MAY BE OUT OF DATE.
Skill Level
Hard Skill Points
Soft Skill Points
1
Cooldown: 5.6 seconds

Wall width: 17 yards
Mana Cost: 80

5
Cooldown: 4 seconds

Wall width: 26 yards
Mana Cost: 104

10
Cooldown: 2 seconds

Wall width: 37 yards
Mana Cost: 134

15
Cooldown: 0 second

Wall width: 48 yards
Mana Cost: 164

20
Cooldown: 0 second

Wall width: 59 yards
Mana Cost: 194
Equipment
Phalanx can be found on the following items:
Sacred Uniques
Tiered Uniques
Sacred Uniques
Gallery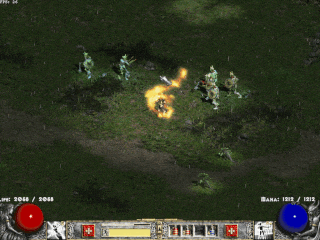 Changelog
Median XL 2017

1.0
Area coverage decreased, damage per second increased, mana progression reworked
Older Versions
MXL Ultimative
v6e
Reduced effects. 
Omega
v001
Slightly increased wall length; added 10% chance to knockback.
Median XL Alpha
021
Mana cost fixed at 250.
019
Doubled mana cost.
018
Skill timer now hits 0 with enough hard points.
Median 2008
1.57BETA
Damage is now correctly 3/2.
1.53
Elfin Arrows replaced Phalanx as a Druid skill.
1.46
Now gains 0-100% conversion to magic, mana cost fixed at 35.
Beta Midterm Patch 2
Can now be mapped under the left mouse button.
Median 2007
1.23
Increased density of Phalanx arrows; narrowed area of effect.
Median 2006
1.14
Reduced missile density at all levels
Median 2 Special Edition
0.09 beta
Greatly increased damage modifier.
Community content is available under
CC-BY-SA
unless otherwise noted.