Dark Power is an oskill buff which gives the party a chance of crushing blow and magic damage to party weapons as well as increased physical damage and attack speed for a duration.
Description
Dark Power
Summon dark forces, boosting the party's physical attacks

Item Granted Skill

Chance of Crushing Blow: 10%
Physical Damage: +xx%
Magic Damage to Party Weapons: xx-xx
Attack Speed: +xx%
Duration: xx seconds
Skill Stats
| Skill Level | Base Points | Soft Points |
| --- | --- | --- |
| 1 | | |
Equipment
The Dark Power skill can be found on following items:

Tiered Uniques
Sacred Uniques
Set Items
Runewords

Crafted

/

Magic

/

Rare Items

5% Ctc lvl 7 Dark Power on Melee Attack on Necromancer Scythes and Necromancer Daggers
Gallery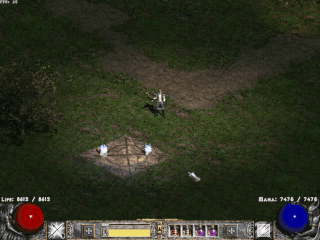 Changelog
Median XL 2017

1.2
Fixed description error regarding the amount of crushing blow granted
1.0
Crushing blow reduced as part of the overall damage rework.
Older Versions
Median XL Alpha
023
Black Prince now casts Dark Power on Level-up
x
x
Median 2008
1.57 RC
Crushing blow synergy now works.
1.57 BETA
Removed NextDelay.
1.53
Receives a new 10% duration bonus synergy per point in Nightmare.
1.49
Now also adds magic damage to the party's attacks; now costs 0 mana.
1.44
Crushing blow bonus is now 5% at all skill levels, improved by the synergy.
1.43
Added a 2% crushing blow bonus per skill level to the spell itself.
Beta Midterm Patch 5
Weakened the damage reduction synergy from Unholy Armor.
Median 2007
1.24
Now adds 1% crushing blow per point in Bloody Mary.
Median 2006
0.05 beta
Slightly reduced enhanced damage bonus
Median 2 Special Edition
1.01
Reduced mana loss.
Median 2
1.17

Removed annoying cast sound.

1.8
Increased damage bonus, decreased mana loss penalty.
0.5beta
Increased mana pool penalty.
0.2beta
Damage bonus decreased. (Earliest patch note of the skill)
Community content is available under
CC-BY-SA
unless otherwise noted.