Angel of Death is a Necromancer Melee skill tree warp strike skill which causes the player to leap and attack a target, dealing massive poison damage and physical damage.
Description
Angel of Death
Warp Strike - Take flight and deliver a devastating blow
Requires a scythe or dagger

50% Weapon Damage

Physical Damage: +xx%
Attack Rating: +xx%
Poison Damage: xxxx-xxxx over xx seconds
Mana Cost: xx
Skill Stats
| Skill Level | Base Points | Soft Points |
| --- | --- | --- |
| 1 | | |
Equipment
The Angel of Death skill is not found on any items except possibly Cornerstone of the World.

Gallery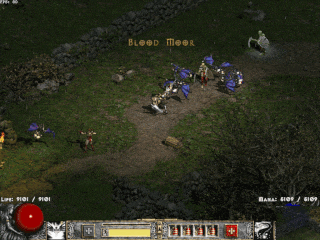 Changelog
Median XL 2017

1.0
Is now a level 18 skill, improved damage formula and targeting accuracy, mana cost increases with level
Older Versions
MXL Ultimative
XII
Increased damage.
Number Versions
1.90
Greatly increased damage, duration starts at 1 second and increases with level, synergy is now a self-synergy.
1.86
Doubled damage per second, added 40% duration synergy from Soulshatter.
Median XL Alpha
012
Now has a 2 second timer when granted by an item; corrected description.
007
Is now uninterruptable.
001
Skill was introduced.
Community content is available under
CC-BY-SA
unless otherwise noted.